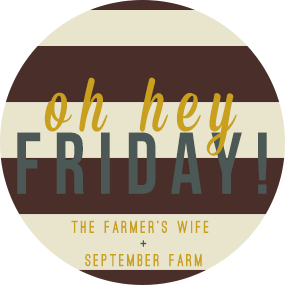 Hello again to the Oh Hey Friday link up. I am sad to admit that this post just did not happen for me last week. Sigh. Unfortunately that darn nursing school gets in the way of things I would rather be doing (like making random lists of things that I like) and we just got through our first round of assignments and papers. So now that that is done, we are hopefully going to be back to the usual blogging schedule of Monday, Wednesday and Friday. As usual I am linking up wit
h
The Farmer's Wife
and
September FARM
-

click on those links to check out more of the Oh Hey Friday link up.
I have a confession to make. I am guilty of having pinterest home envy. It still blows my mind that there a people who live in the homes that you see in the home decor section of pinterest. Seriously, who has the time and money to not only put the look together, but to keep it looking that good?? Not myself, that is for sure, much as I try.
I would, however, like to change a few things around in my decor to have a bit of a fall theme. This is mostly a coping mechanism to keep me from being the person trying to put up Christmas decor in October. Micheals needs to help a girl out and keep their Christmas crafts/decor/ornaments awesomeness to themselves at least until November (I swear they've had Christmas stuff out for three weeks already).
So my list of five this week consists of my fall decor lusts/goals. I want to choose some items that I can transition into more wintery pieces as well (since according to my hardworking farmer, we don't have endless amounts of cash lying around for me to spend on home decor... Men, sheesh).
1. Fall pillow covers like this:
I am hoping to make something sort of similar and post a tutorial on it, so stay posted. I like this harvest one since we are farmers, very fitting.
2. A tartan blanket like this:
This would be for my sofa though, not my porch (especially since I don't even have a front porch). I don't know if it is because Brett and I are looking into a trip to Scotland next year or what, but I have been tartan obsessed lately (like the tartan blanket I used as a scarf in my outfit of the day post). It is also a great transitional print from fall to winter.
3. Ceramic pumpkins (oh Pottery Barn, you get me every time):
I am not the biggest fan of decorating with real pumpkins. Don't get me wrong, carving them is fun (I have wonderful memories of pumpkin carving with my mom and dad) but I hate that they rot and get stinky. Ceramic ones like these will stay beautiful for years to come.
4. Bronzey log holders:
I must admit that our fireplace room gets forgotten about on the decorating side of things. Basically we painted it and put a picture above the fireplace. Other than that it is a bit ugly. But I have decided that I want to make it my project to fix it up before Christmas (perhaps a before and after post will be in order). To attempt to corral our chopped wood and paper, I would like to use something pretty like these bronze buckets from Target.
Technically we don't have to buy this because our coffee table is actually an old trunk. It was an antique one left from Brett's grandma. The poor thing is not in the best shape anymore (funny how that happens to decades old things...) and just needs a little TLC for it to fulfil its full potential. And perhaps some Pottery Barn ceramic pumpkins to dress it up a little.
What are you lusting for this fall?