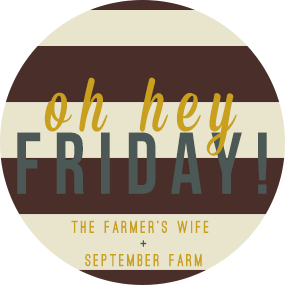 Hey there! How was your week?? Hope it was awesome. I am so excited for this weekend for two reasons, (1) Brett is coming to visit me and (2) we are Christmas shopping! So, I want to start the weekend off right with a few good reads I found on the blog
Nurse Loves Farmer
(as you can tell by her blog name, she is a nurse and a farmer's wife).
When I first heard about Sarah's blog I was all "I'm a farmer's wife, I'm a baby nurse [aka nursing student], this blog and I were meant for each other!" Then I found out that her family farms in Alberta (our neighbouring province). I was a match made in blog heaven is what I am saying. That being said, she doesn't actually know who I am... But it doesn't stop me from loving her posts. So for this Oh Hey Friday, lets take a look at my favourite posts from the Nurse Loves Farmer blog. As usual I am linking up with
The Farmer's Wife
and
September FARM
- click on those links to check out more of the Oh Hey Friday link up.
1.
If I Were a Food Activist
.
2.
Coventional and Organic Agriculture Myths
. The title of this one is pretty self-explanatory. I like that she is real about there not being a set right or wrong choice in this battle, but just because you choose organic doesn't mean that you get to slander people who choose conventional.
3.
Farming Requires Faith Like a Mustard Seed
. Lots of truth in this post. I love this quote from the post: "We try to control what we can control, but you have to do your best with what God and nature throw at you."
4.
The Truth About Glyphosate and Wheat
. I read this post right after I read an article from a different source titled "The Real Reason Why Wheat is Toxic" (which I won't link here because I refuse to spread propaganda and falsehoods on this blog). It is a good reminder to think about where you are getting your information from. Also, glyphosate is more commonly known as Roundup - if you were curious.
5.
The Skinny on Modern Wheat
.
Hope you can enjoy a few of those reads this weekend! See ya on Monday!